As the COVID-19 pandemic unfolds across the world, we see a rapidly growing demand for data on the impact of the novel coronavirus virus on people with Multiple Sclerosis. This information is crucial for patients and their clinicians, enabling them to make evidence-based decisions on how to manage their condition during the pandemic, or in case of a COVID-19 infection. By collecting data across COVID-19 cases from many countries, we will be able to find answers faster. This may help save lives.
MSIF: Global data-sharing initiative
The MS International Federation, along with its members and the MS Data Alliance, has recently launched a global data-sharing initiative for COVID-19 and Multiple Sclerosis. The initiative invites all clinicians to report the COVID-19 status of their patients with Multiple Sclerosis. This includes probable cases, patients who have a confirmed COVID-19 diagnosis, and Multiple Sclerosis patients with no suspicious or COVID-19 symptoms. You can report on both current and retrospective COVID-19 cases. Please read the official documentation here.
Visit the initiative's website.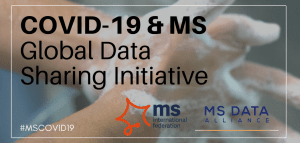 Reporting New Zealand Cases
If any of your MS patients are diagnosed with COVID-19, please contact Dr Deborah Mason. She will compile this information for the Australia and New Zealand COVID19 Data Set. This will facilitate future research into the impact of COVID-19 on Multiple Sclerosis.